Loved by 1000+ customers across US & Canada
See the Titan in action
GIO Titan Specifications
| | |
| --- | --- |
| Wheel Operation | 3-wheel operation with a wheelie bar |
| Battery | 48V20AH battery |
| Motor | 500w motor with reverse |
| Top Speed | Up to 25km/hr |
| Max Range | Travel up to 30 miles (50km) on a full charge |
| Load Capacity | 440lbs (200kg) |
| Charge Time | 6-8 hours |
| Brakes | Front Hydraulic Disc & Rear Cable Drum |
| Tires | 10 x 3.00 Tires |
| Product Dimensions | (L x W x H) 62"(158cm) x 28"(72cm) x 48"(122cm) |
| Dry Weight | 277lbs (126kg) |
| Turning radius | 47"(120cm) |
| Seat height | 29"(73cm) |
| Seat width | 18"(46cm) |
Each GIO Titan is built with safety in mind
| | | | |
| --- | --- | --- | --- |
| | GIO Mobility | Other Mobility Scooters | Nursing Scooters |
| LED Turn Signals | ✅ | ❓ | ❌ |
| Safety Horn | ✅ | ❓ | ❓ |
| Adjustable seat | ✅ | ❓ | ❓ |
| Reclining Back | ✅ | ❓ | ❓ |
| Safety alarm | ✅ | ❓ | ❓ |
| Front and back lights with high and low beam for visibility | ✅ | ❓ | ❓ |
| Remote fob for keyless start/stop functionality | ✅ | ❓ | ❓ |
Designed like a real scooter. Travel in style.
Inspired by the modern 2 wheel scooters, the Titan is a head-turner. Customers are impressed by the beautiful design. You can feel confident about travelling anywhere.
"I bought this because I can't drive a car. Now I can get around by myself again." - Shirley
Half the cost. Double the features.
Don't pay $4000+ for traditional medical scooters. They are awkward looking and uninspiring (like a wheelchair or a medical device). They are unstable. And they have limited capacity. GIO mobility scooters are different. They are durable, loaded with bigger storage, bigger wheels and elegantly designed.
"I bought this one for my husband. He's 81 years old and GIO helps him to not lose the quality of life and social interaction."- Kathy
Ample Storage. Carries up to 440 lbs (200kg).
Each GIO mobility scooter is equipped with under the seat storage, a bag hook, and a rear basket. Now you can add groceries and run errands with ease.
"Got one and love it. It meets all Handicapped compliance's and gets me to and from safely and with ease." - Roy
Travel for a whole day in a single charge.
Ride to get groceries. Ride to the park. Ride to visit a friend. Ride to the mall. You can do all this in a day without interruption. Travel up to 30 miles (50 km) on a full charge at 15 mph (24 km/hr). This translates to hours of non-stop riding at top speed.
"Yes, that's exactly what I needed, had lots of feet surgeries, so can't walk, thank you" - Clyde
A modern mobility scooter. Equipped with features that put safety and convenience first.
Easy start with a comfortable twist throttle. Go reverse with a back up signal. Track essential information with built-in LCD. For additional safety measures, each GIO mobility scooter comes with a wheelie bar to prevent accidental tipping during incline and reverse riding.
"Got my GIO yesterday. Unbelievable ordered on the 16th and received it on the 20th. Enjoying it so much! Thank you!" - Mark
Call our support team.
We are always here to help.
Please do not hesitate to contact our support team with any questions you may have about our GIO Electric Scooters.
We accept phone orders during business hours (9 am to 4 pm PST Monday to Friday). Call 1-855-907-4211
Equipped with features to make everyday life more convenient
| | | | |
| --- | --- | --- | --- |
| | GIO Mobility | Other Mobility Scooters | Nursing Scooters |
| Storage Space | ✅ | ❓ | ❓ |
| USB Port | ✅ | ❓ | ❌ |
| Easy to Assemble | ✅ | ❓ | ❓ |
| Reverse Mode | ✅ | ❓ | ❓ |
| Travel Speed | Up to 15 mph (24 km/hr) | Up to 15 mph (24 km/hr) | 4-10 mph (6-16 km/hr) |
| Travel distance on a full charge | 30miles (50km) | 13-20 miles (20-32km) | 11-15 miles (17-24km) |
| Load Capacity | 440lbs (200kg) | 300-350lbs (136-158kg) | 350-400lbs (158-181kg) |
Geometry and Dimensions
Here's what our customers have to say about GIO Titan
Sammy
My husband has owned the GIO mobility scooter for 6 years. It's been a perfect summer alternative to get out and about. I would definitely recommend GIO Titan
Kat
I have a three wheel model and it is wonderful. I live where there aren't a lot of paved roads and it works great! Thank you for the great product!
Faye
I received my Gio Titan yesterday. I absolutely love it! It arrived about a week after I ordered it. It is packaged incredibly well; in fact in packaging, it's indestructible! It rides like a dream. I have a dirt, bumpy driveway and rode down It, no problem. It felt very secure and comfortable. This is my 4th scooter and, hands down, the best. It's a bargain and I highly recommend it to anyone.
Greg
I have driven it for a year with 1000km on it without a single issue. Great product for it's price!
Gallery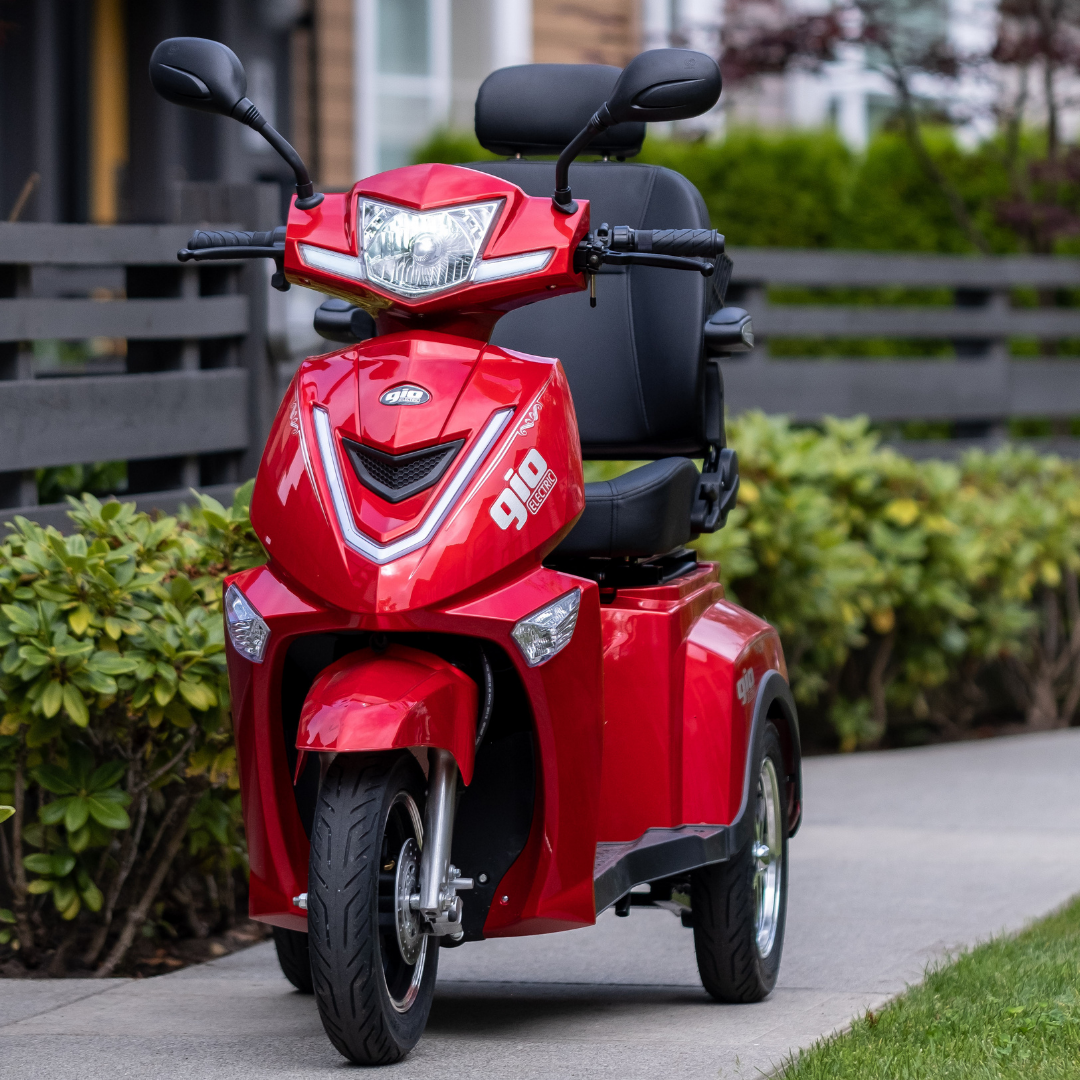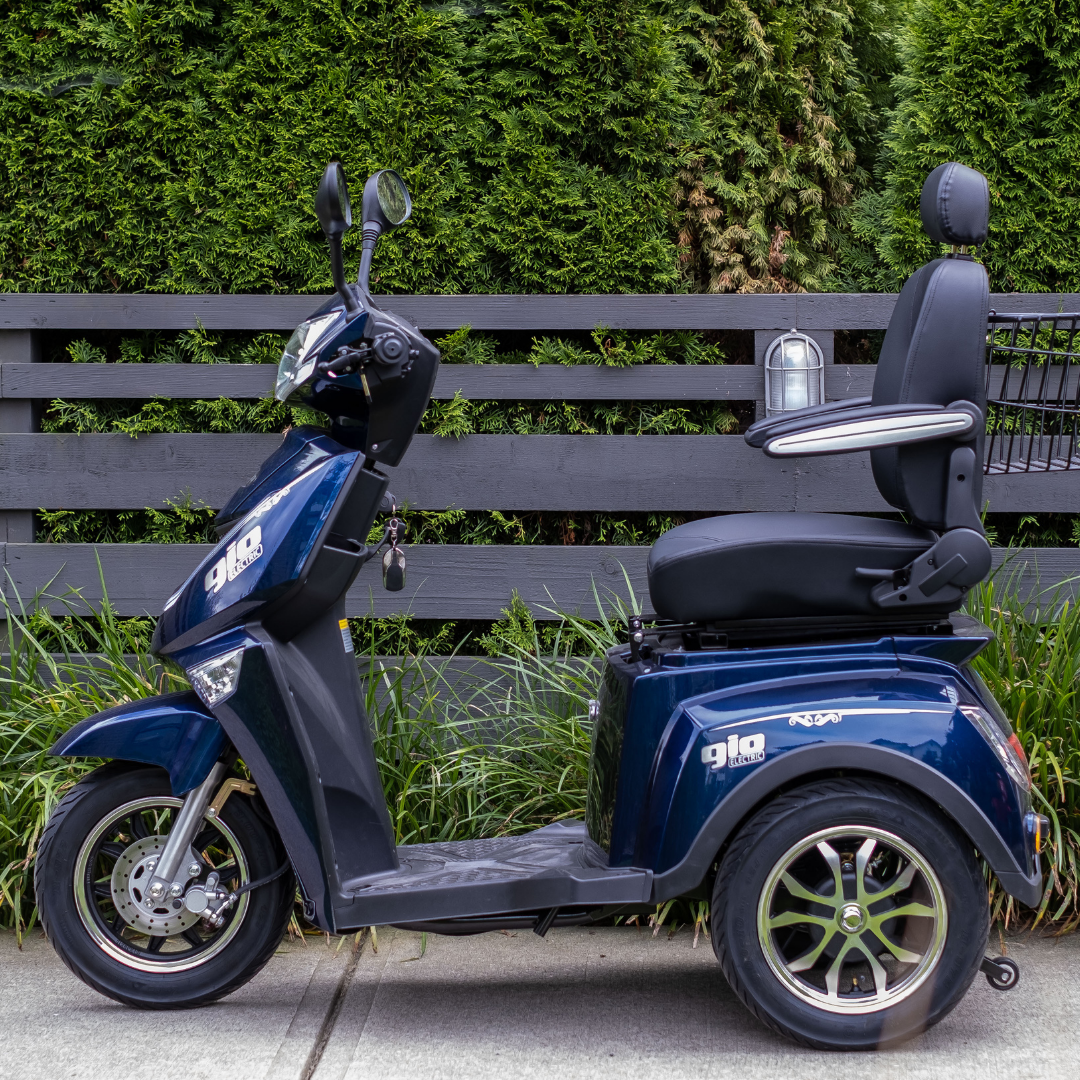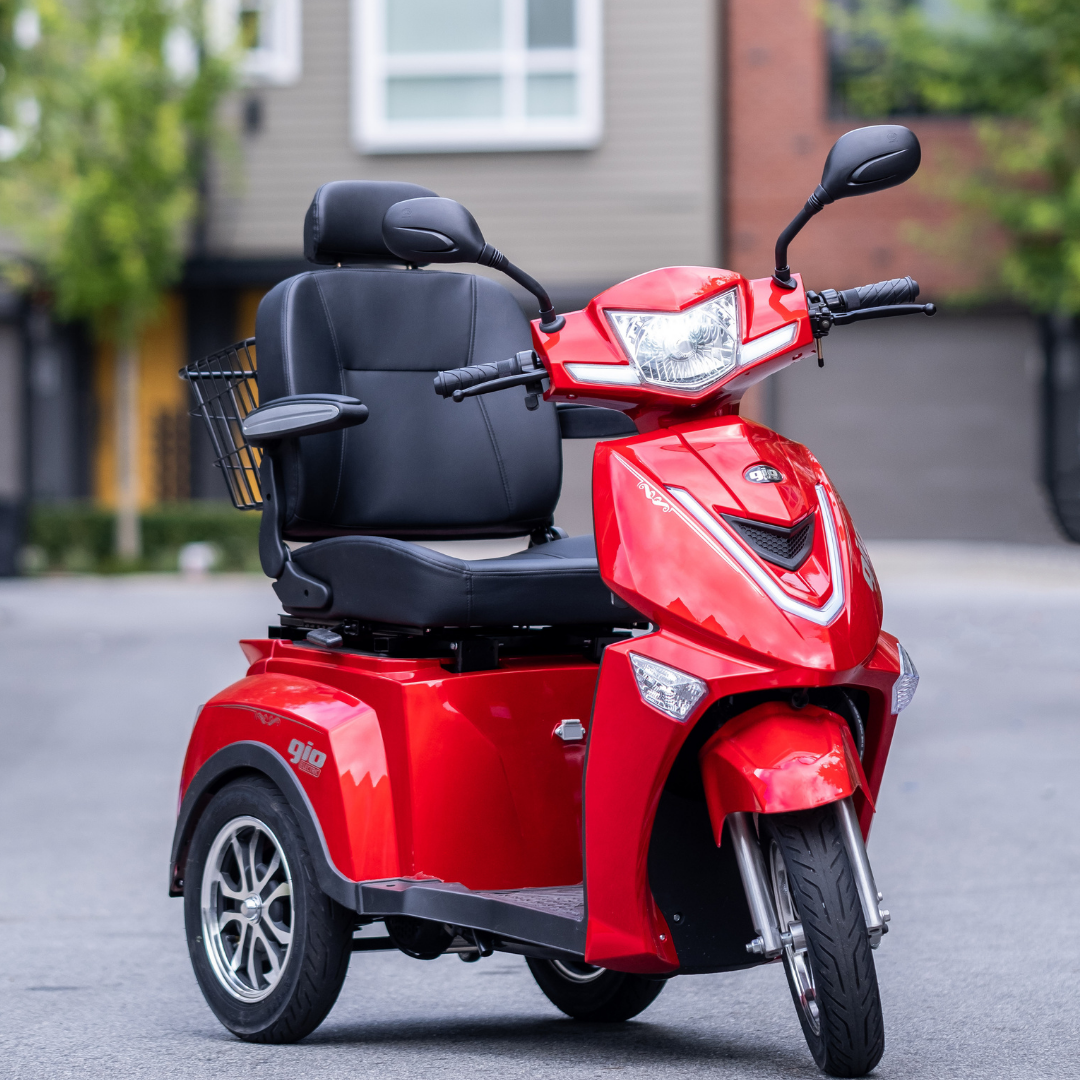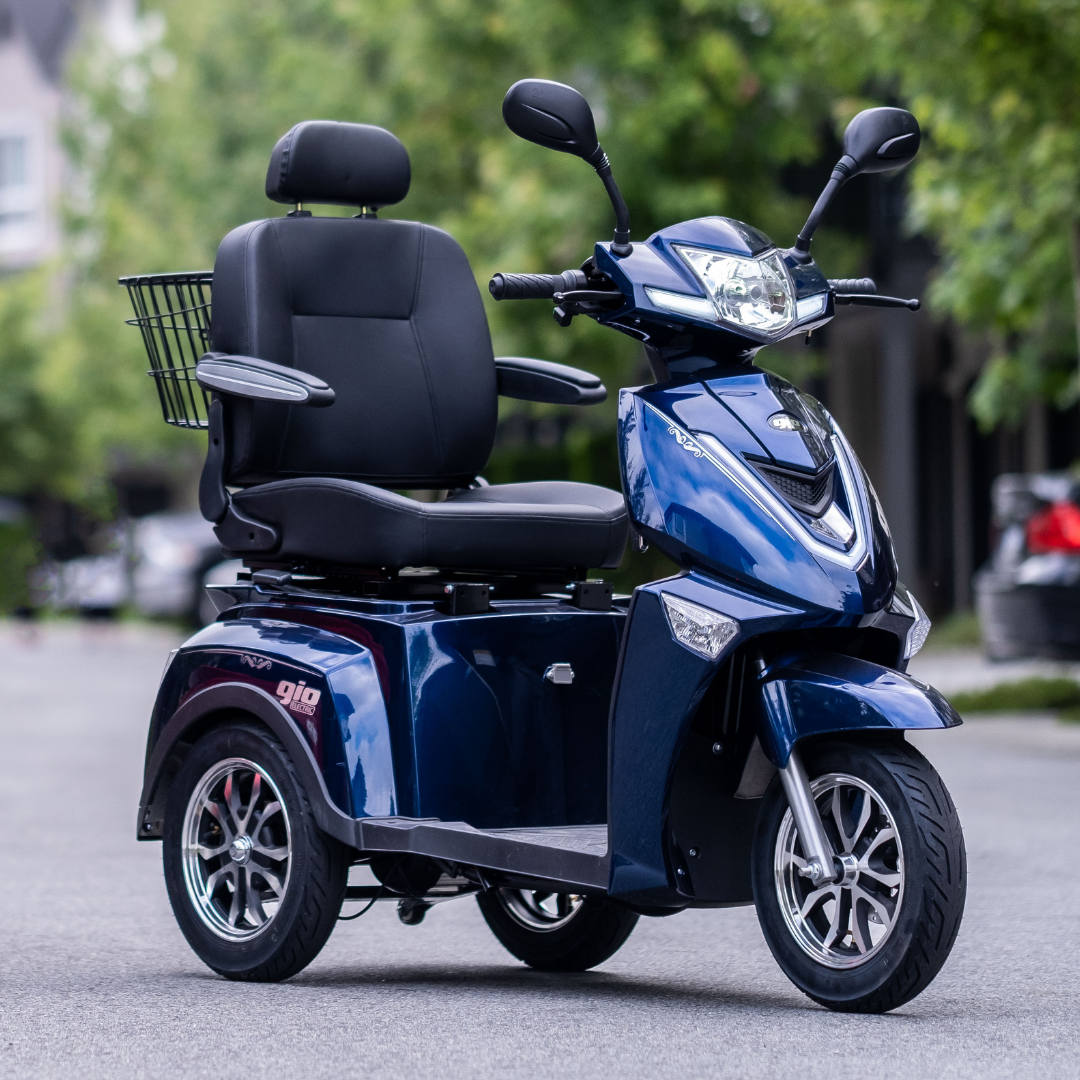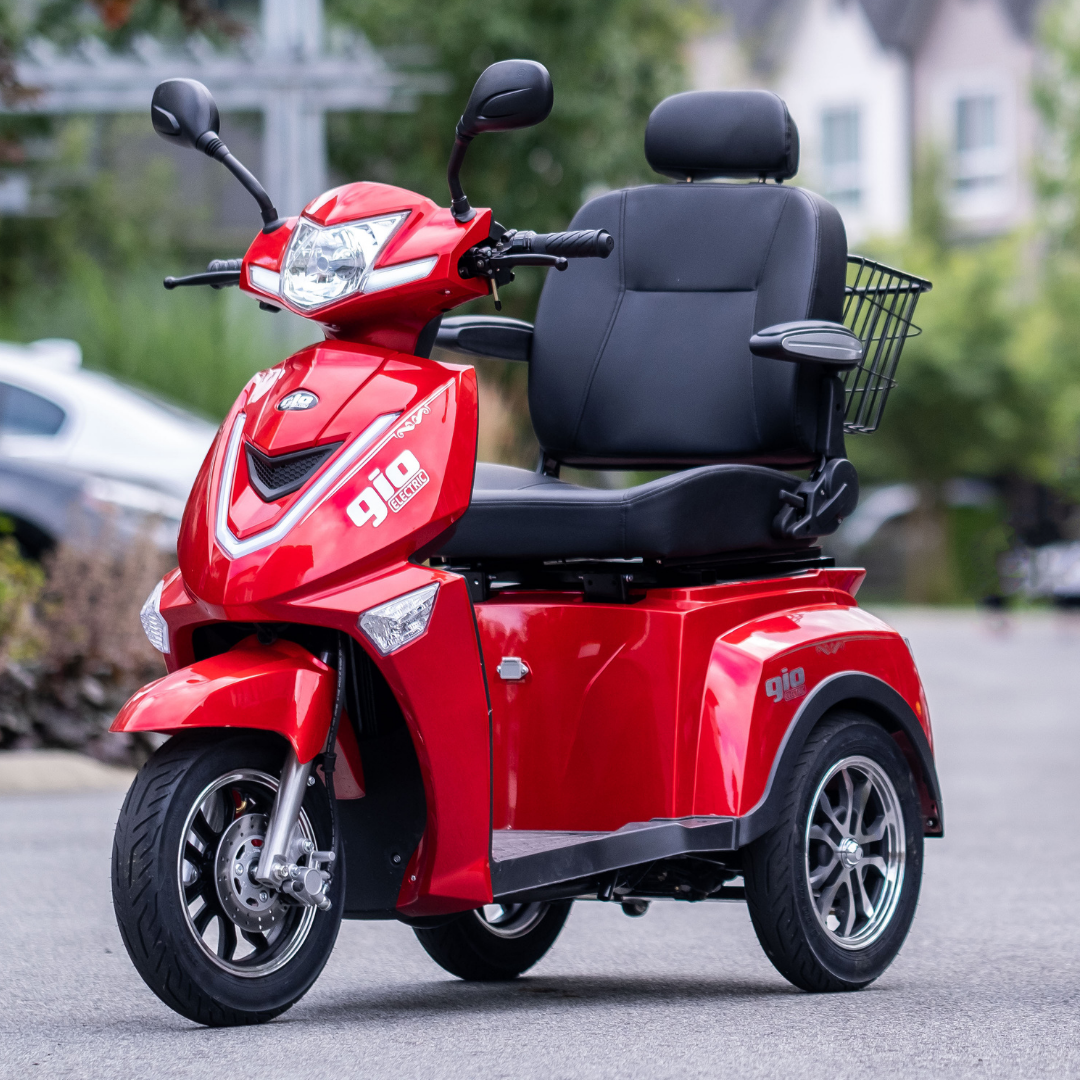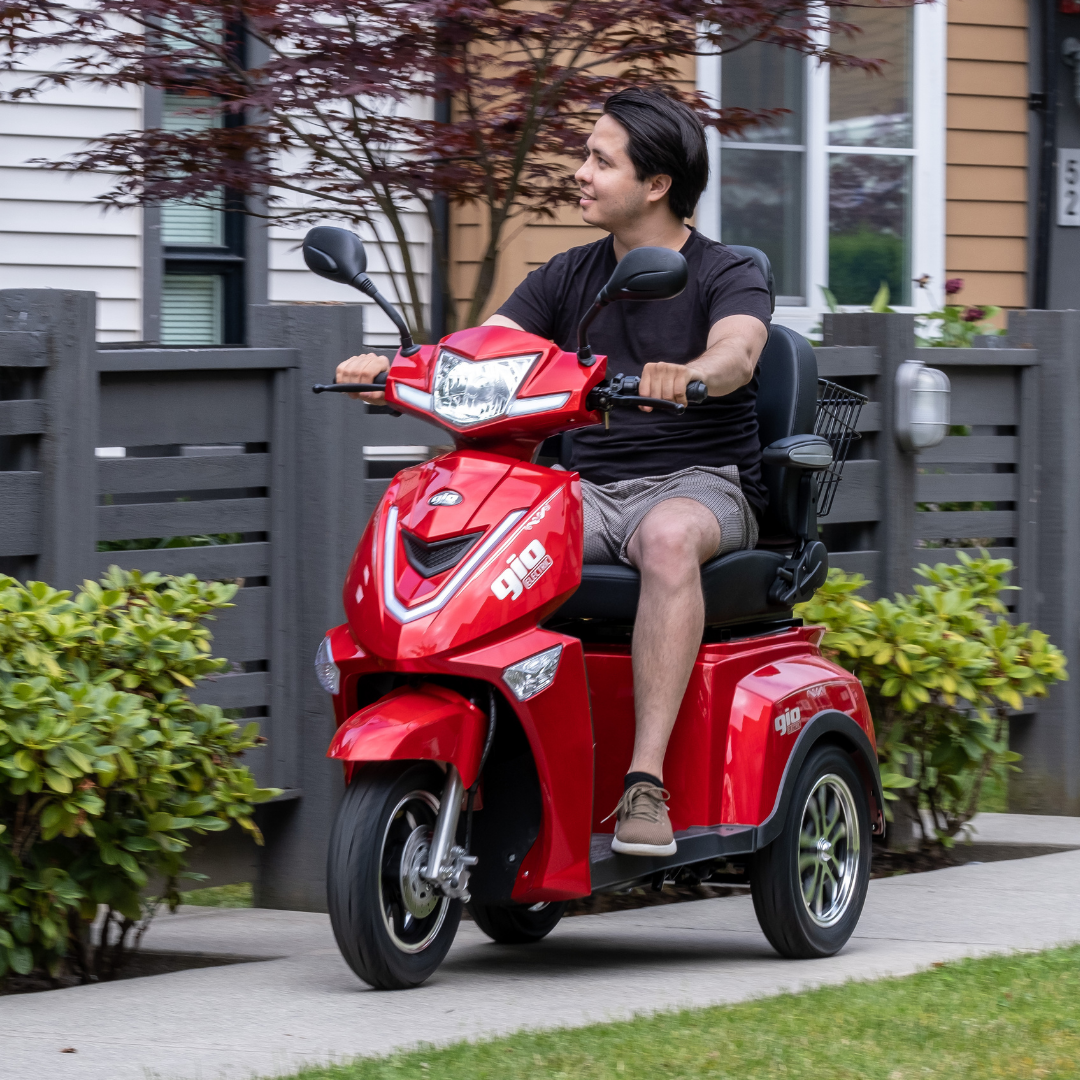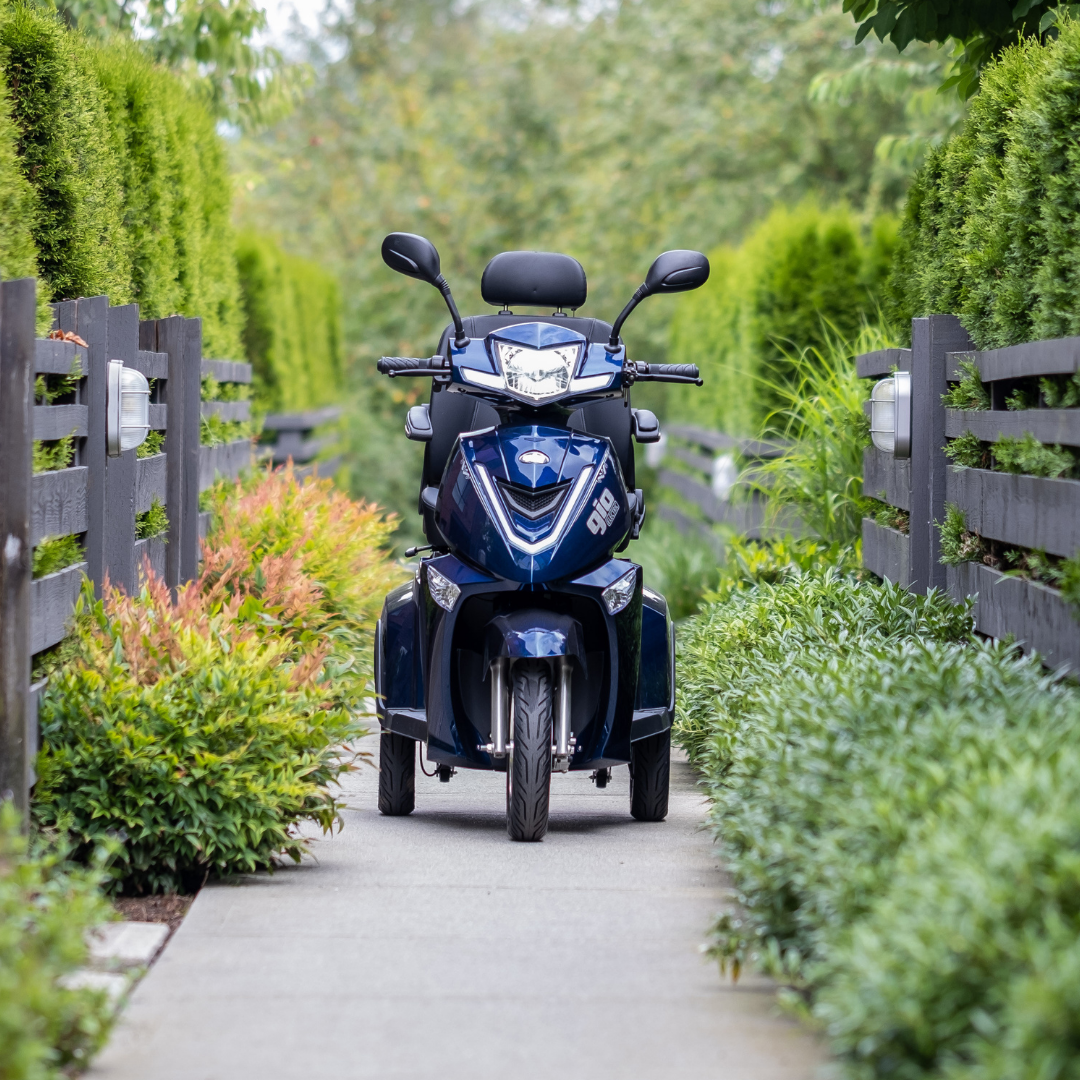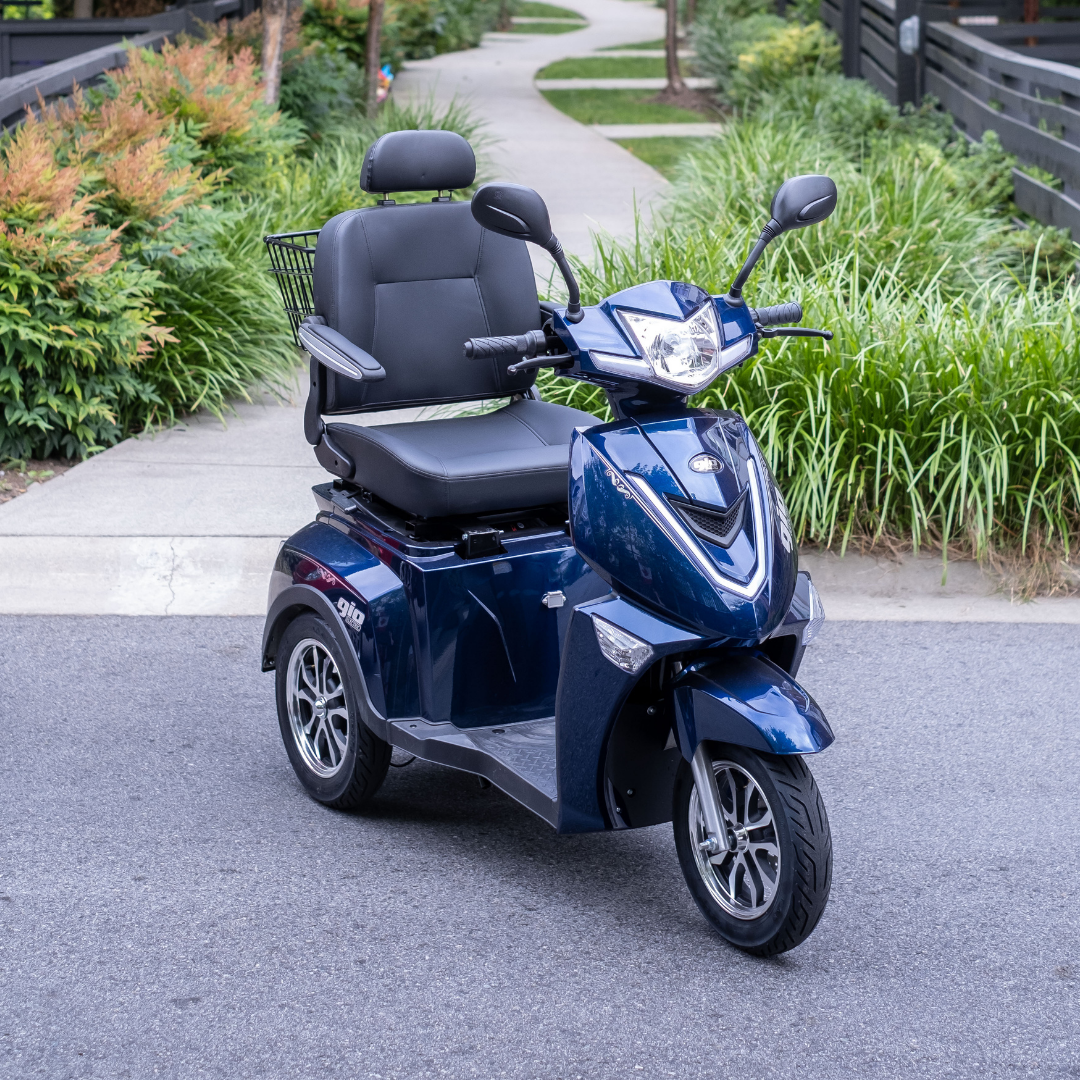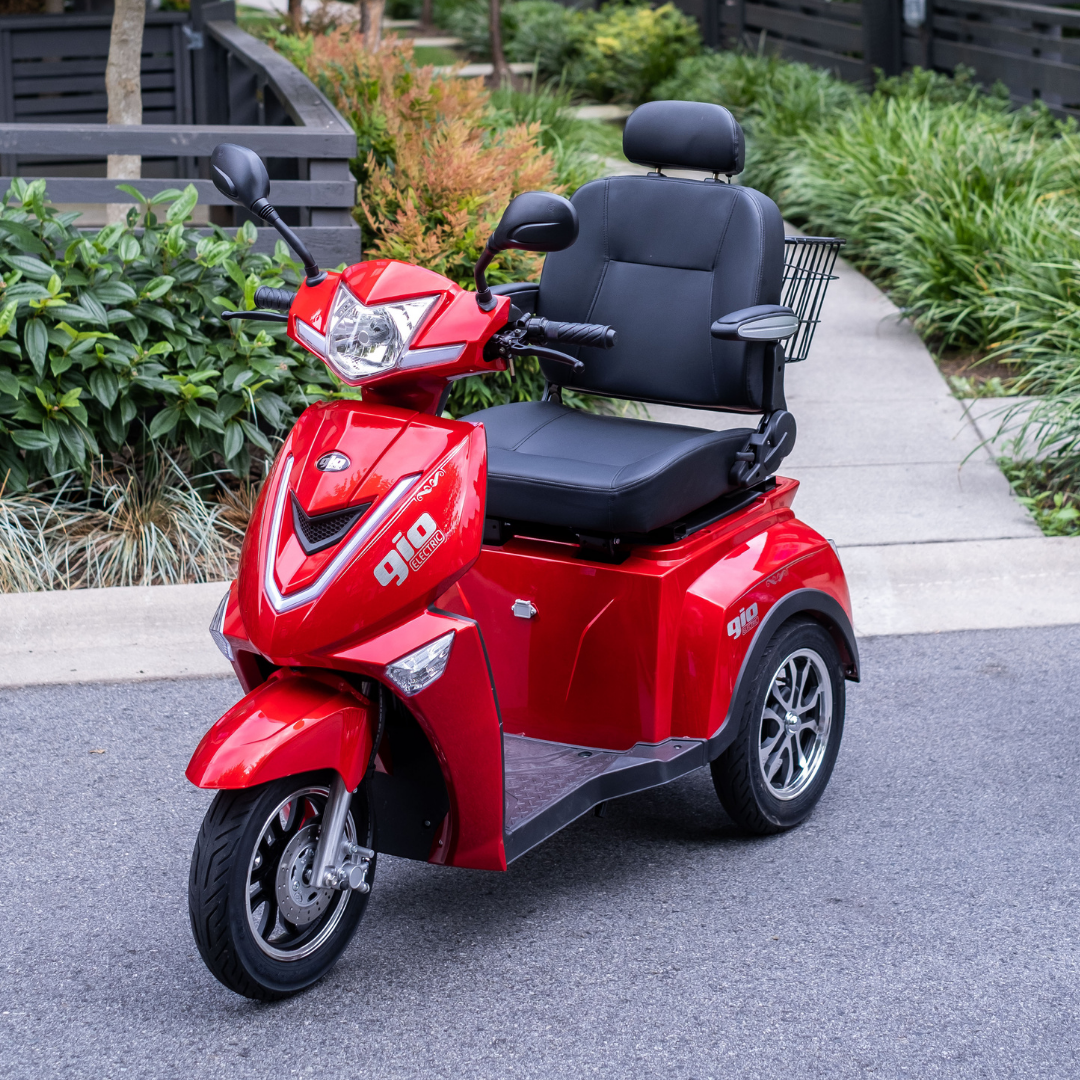 Customer Reviews
08/31/2023
Glen R.

Canada
Good, but !!!!!
Purchase was easy. Delivery was ok. NO instructions how to get scooter of the crate. Managed to put a Hugh scratch in front body. Overall handling is excellent. Very smooth ride. Top speed is great. Lights are good. Not good are accelerating very bad. Harvard lights don't flash. Trying to do a three point turn is terrible. Once you back up and try to go into drive very slow. If it goes into drive. Turning radius is large for three wheeler. Tech people understood concerns but indicated this is probably normal. Doesn't meet my expectations.
08/29/2023
David T.

Canada
GIO TITAN LONG RANGE MOBILITY SCOOTER
I have new independent freedom. The scooter is fun to ride and performs as advertised if not better in my case.My scooter is blue and it just sparkles.It turns a lot of heads as I drive it down the street and I get many nice comments and questions about it. The scooter is well worth the cost it is the BEST INVESTMENT I have made to maintain my independance.
08/25/2023
Ron S.

Canada
good-better-best !!!!!
only one thing--I didn't buy it sooner
08/17/2023
Timothy G.

Canada
Love my Titan
It is great, takes some getting used to....40 years since I rode a motorcycle!
Test ride the Scooters in Our First Retail Store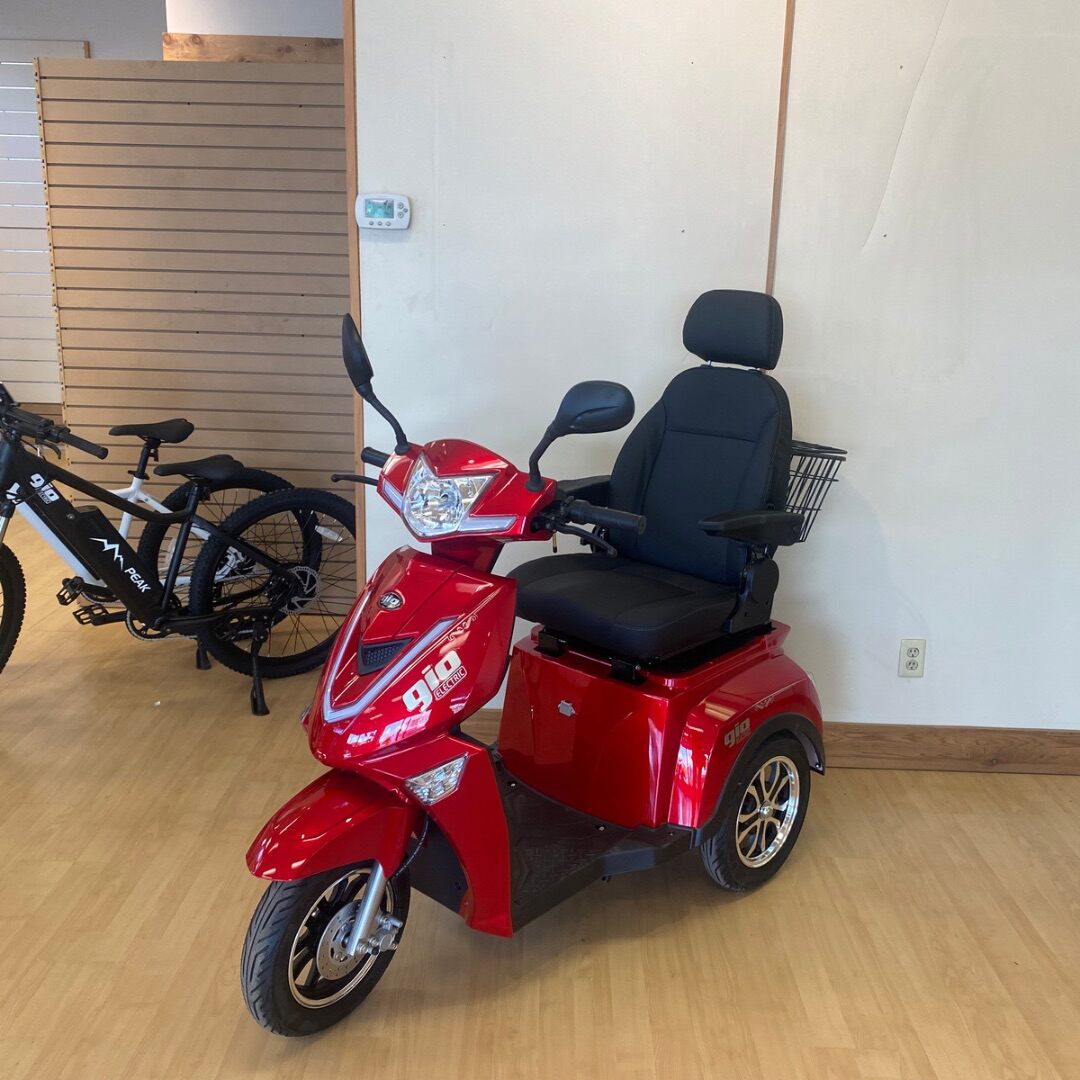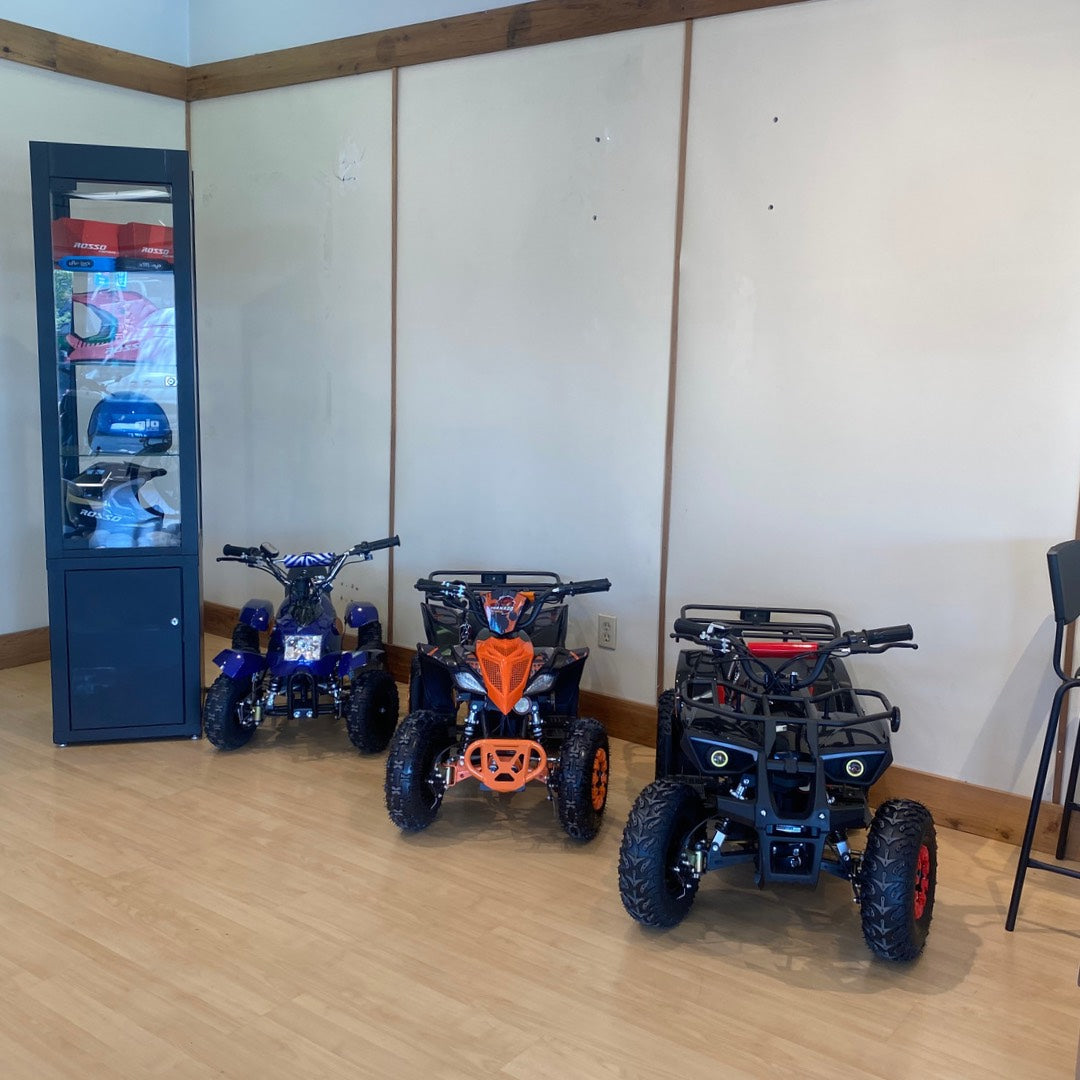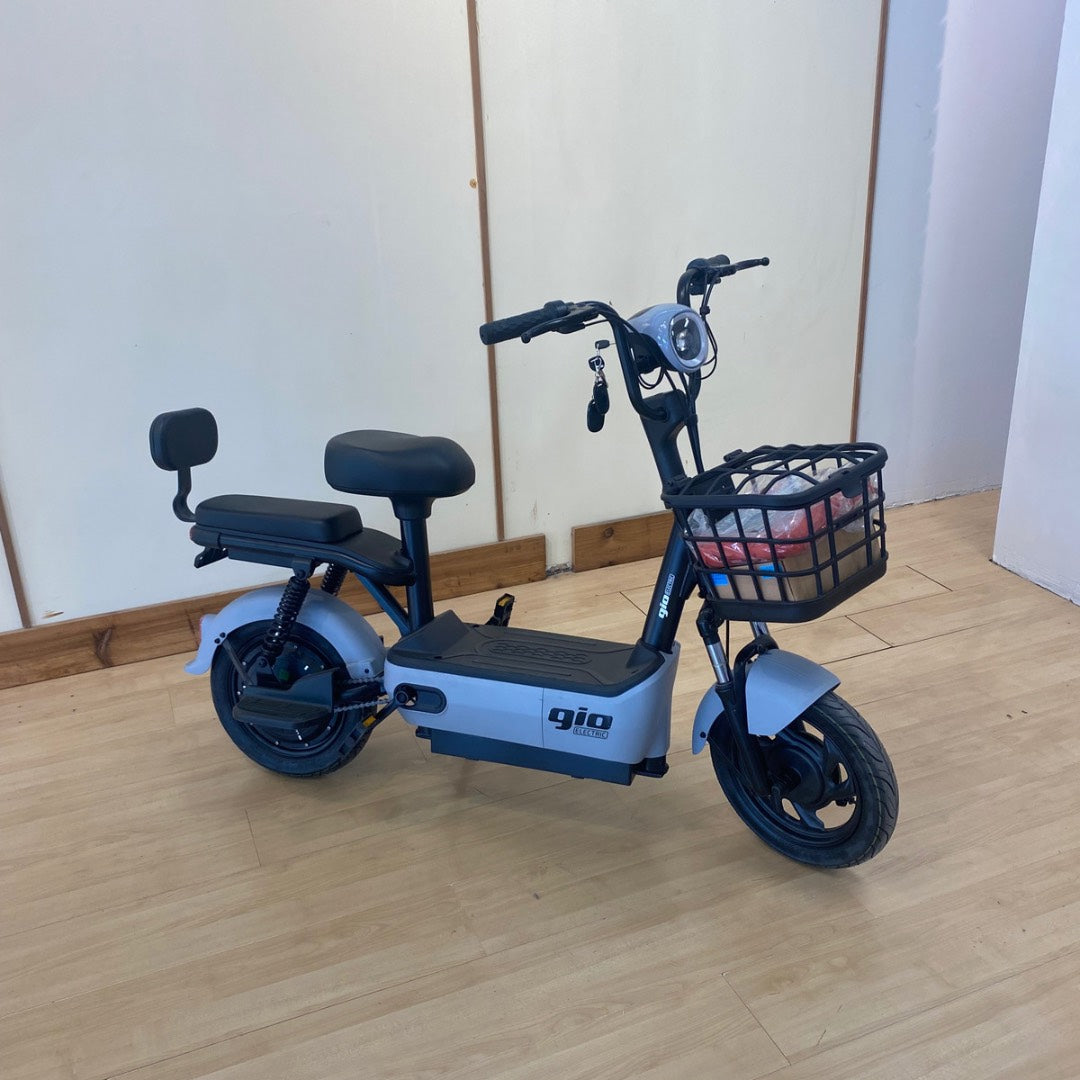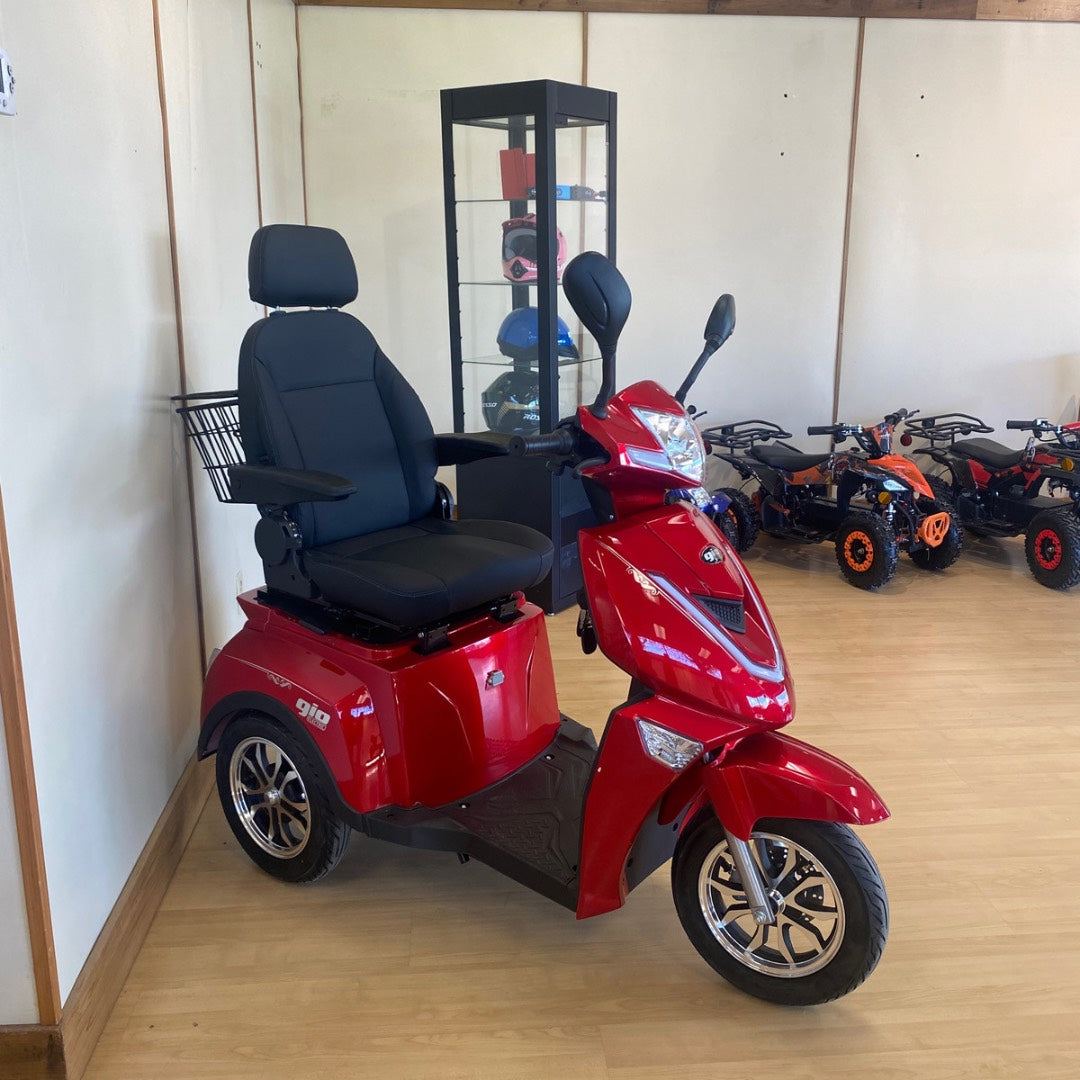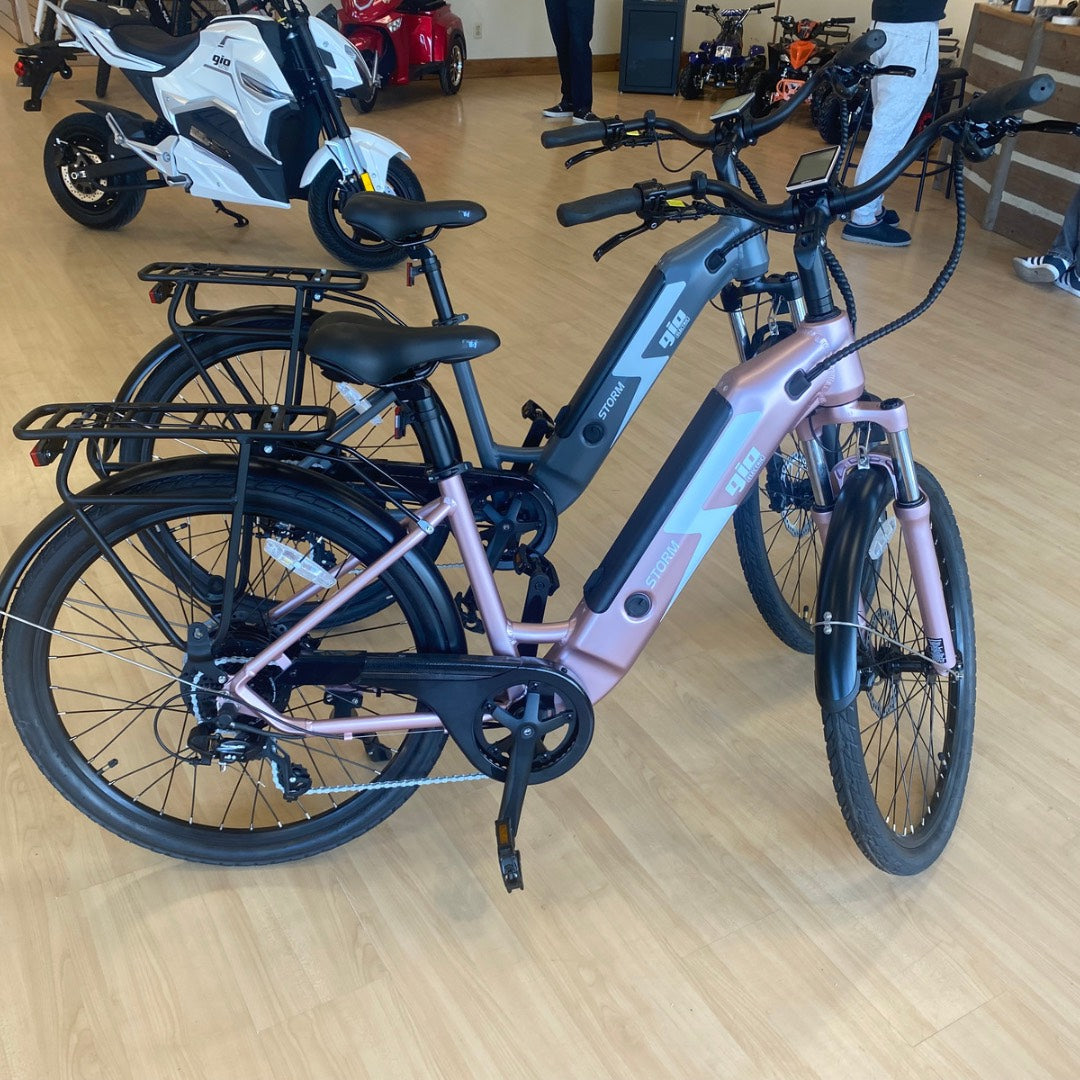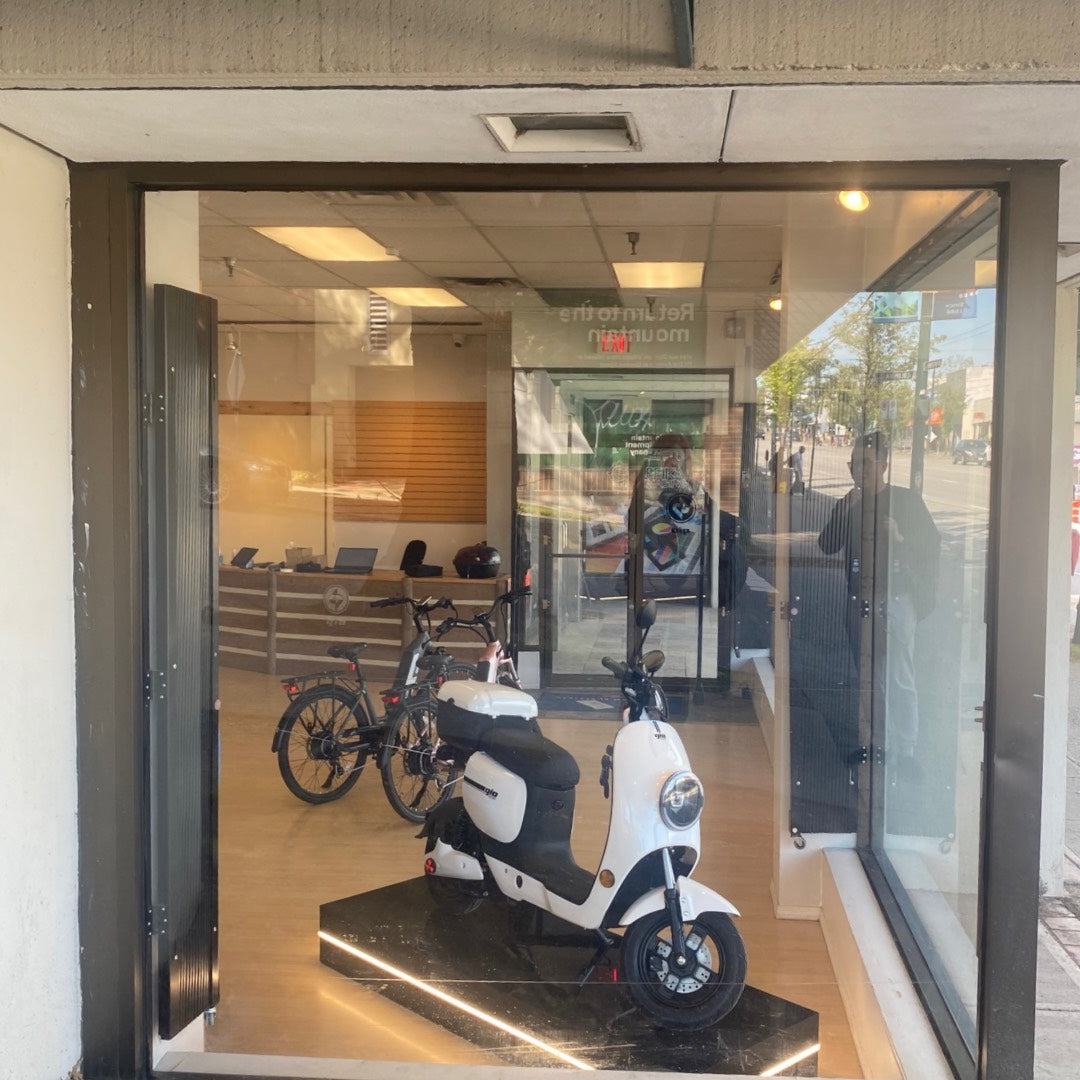 Choosing a selection results in a full page refresh.
Press the space key then arrow keys to make a selection.